naucon '99
---
Photo Report
Last update :


Preface

This is a brief report of naucon'99. Our naucon has a special meeting once a year. In the meeting lasting for 2 days, the attendance discuss something related with Nausicaa, Mr.Miyazaki and his works. This year, 9 people joined at the meeting, naucon'99.

Oct.30th, 1st day.

13:00 Tokyo station
Naucon'99 members, except those who joined later, gathered at Tokyo Station. And we took Touhoku Shinkansen (super express) YAMABIKO 43 to Fukushima, which is located at South Touhoku region about 200km north from Tokyo.

13:20 Departure
The train leaving for Morioka.

In the travel for one and a half hours, we took lunch with beer, and circulated some do-jin comics that were bought at Comic Market 56 in this summer. Griffin's report of MoMA and New York Film Festival were also circulated.

These are naucon'99 official(?) name plates.

15:05 Fukushima station
We arrived at Fukushima Station on time. It was cooler and more comfortable than in Tokyo.

We took a rest for a while at a beer counter :)

Then, we got on a rent-a-car and went to the venue.

16:00? Takayu
After driving for 30 min, we arrived at Takayu. Takayu-Onsen (the spa of Takayu) was placed at halfway up to the Bandai-Kogen (Bandai highlands) which was a part of Bandai-Asahi National Park. The hotel Hige-no-Ie we stayed was one of the Ryokan (Japanese style hotel) with an open-air hot-spring. It was surrounded by full of nature, beautiful colored leaves and a mountain stream. We checked in, and enjoyed hot-spring and scenary at first :)

19:10 Dinner
Though 2 members hadn't arrived yet, we started a banquet at a dining room.

This is a menu. It was a full-course Japanese style dinner. Every dish and sake was very good.

20:40 Completed
The rest of members finally joined and made a toast again.

And the official posters also arrived.

Two types of posters were available.

21:30 Set up
After dinner, we prepared for a main conference with some AV equipments. We turned our room into a mini theater :)

The posters were also displayed.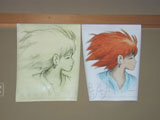 21:40 - 23:15 Opening & Main session

Each member introduced himself and talked about something related with Mr. Miyazaki and the Ghibli. Here were digests of their talks.
23:15 Video session
We terminated the main session and had a break time for taking a bath. After a while, we moved to the video session. We watch the following cartoons:

26:00 End of 1st day
We went to bed ... zzz.

Oct.31st, 2nd day.

7:00 Morning
Some members went to a hot-spring. Taking a bath in the morning definitely had us refreshed.

8:00 Break first
The taste of fresh rice `Hitomebore' was very good.

9:00
Mr.Nanbu and Mr.Kataoka left for their homes earlier than others. Mr Saito took them to Fukushima station by his car.

The number plate was ... ? :)

9:45 Closing
We adopted the Takayu Declaration. The Takayu Declaration is `We are watching them from now on.' It means that we should discuss not only the past works of Miyazaki and the Ghibli but also their current works and what they will do in the future.

And We decided naucon 2000 will be held at Tokyo next summer.

10:00
We took a photograph at the entrance and all of the programme was finished.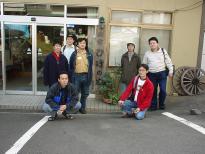 That's all.
---

Return to index of naucon '99
---
If you have any question, please contact to webmaster@naucon.org.